When Dr. Jan Willem Gorter and Dr. Peter Rosenbaum first published, "The F Words in Childhood Disability: I swear this is how we should think", they did not anticipate that the report would be downloaded 20,000 times with 240 citations, shared around the world and translated into over 30 languages.
Their intent was to shift people's perspective on disability – instead of focusing on what individuals can't do, to focus instead on what they are able to accomplish. Built upon the World Health Organization's International Classification of Functioning Disability and Health, CanChild's F-words (favourite words), have made an incredible impact across the globe.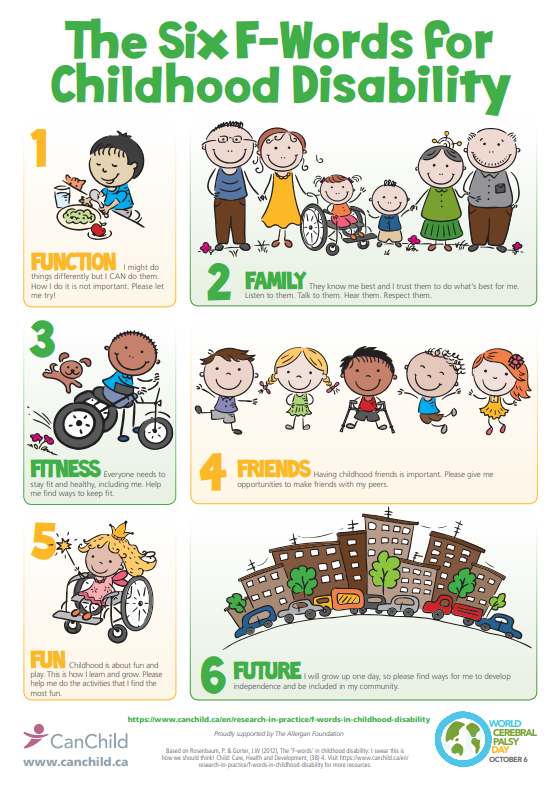 So, what are the "F-Words"?
Fitness: People with disabilities are often deemed less fit.
Function: It's the "doing things" that is important, not how you do them.
Friendship: Develop significant relationships with peers.
Fun: If we know what's considered fun, then we can incorporate it into the advice we give and the therapy we provide. If kids don't enjoy it, it won't work.
Family: We work with families, so it is fundamental that we care for the entire unit.
Future: Always be thinking about what's ahead, about continually developing.
In early 2020, Ontario Brain Institute (OBI) hosted a public talk, "The F-Words: Finding the Ability in Disability", moderated by the Globe and Mail's André Picard and with opening remarks by Kirk Nylen, OBI's VP for Integrated Discovery and Information.
Here are a few key takeaways:
1."Growing up is hard to do…for some it's even harder than for others." When we see the disability and not the ability, it strongly impacts the individual on the other side of our judgement – a point made by Danijela Grahovac, a Senior Technical Support Analyst at CanChild and a mother of a 17-year-old son with cerebral palsy, Vasilije.
"Think about when you saw Vasilije first; what did you think? 'Oh, he has cerebral palsy, he can't do much sitting there,'" said Danijela.
Danijela is involved with school systems in Ontario and previously researched the use of SMART boards for children with special needs. She is also an internationally recognized F-Words champion. She followed up that question by presenting a collage she had prepared of Vasilije's "F-Words" in action – functioning on the soccer field, family time with his grandparents in Serbia, fitness through horseback riding, fun by helping to mow the lawn using his walker, spending time with his friends, and his future goal of graduating high school.
"How are you looking at him now? A bit different?"
2. Our health is not just the absence of disease. "It doesn't matter how you function, or how you accomplish the things you wish to accomplish, the important thing is that you get to do what you want to do. In this regard, we need to annihilate the concept of 'normal'", said Dr. Jan Willem Gorter, Director, CanChild and a pediatric rehabilitation medicine specialist at McMaster Children's Hospital.
3. Focus beyond childhood and across the lifespan. When we fully employ the "F-Words" at an early age, we begin to see beyond childhood and appreciate the opportunities and potential that lay ahead. Children with disabilities become adults with disabilities. The sooner we accept and celebrate diversity and differences, the better – Peter Rosenbaum, Professor of Pediatrics at McMaster University and co-founder of CanChild.
4. "It helps to reframe my identity". Julia Ersilia Hanes, a student research assistant at CanChild and third-year medical student in Ottawa, did not grow up with a disability but rather, she acquired her disability when she was 17-years-old. During the panel, she spoke about how that shifted her internal perception of herself. "It was hard to see myself outside of my disability," she explains. "The F-words helped me to reconceptualize myself, how I think about my disability, how I think about my future." As someone with lived experience of hemiplegia and a Canada Games gold medalist in para-athletics, Julia is an eloquent F-words champion and a role model for many.
5. Transition the principles from the paper, to practice. It's a challenge that OBI and its partner organizations, like CanChild, focus on greatly – how we can better take concepts from the lab to life, or in this case how we can take the principles outlined in the report to make sure they are applied in day-to-day practice.
Dr. Andrea Cross, a postdoctoral fellow at CanChild Centre for Childhood Disability Research, with a PhD in Rehabilitation Science from McMaster University, took the participants through the process of bringing the F-Words directly to the audiences that needed them. She began this work in 2014 with an Integrated Research Team made up largely of parents who created the "F-Words Tools".  The tools later evolved into partnerships across the globe with F-Words being used not only by health care professionals but also with educators during education planning sessions.
To learn more about the OBI Public Talk on "The 'F-Words': Finding the Ability in Disability," watch the full video here.