From a small organization in Toronto leading in-person dance classes, to a national phenomenon connecting over 100 people every day from coast to coast, Dancing with Parkinson's has come a long way. 
Founded in 2008, Dancing with Parkinson's (DWP) has been sharing the joy and benefits of movement, connection, and artistic experiences with people living with Parkinson's disease and seniors across the country for 15 years. 
At the onset of the pandemic in 2020, DWP closed its 15 in-person classes and began offering free, daily, online classes for people living with Parkinson's disease and isolated seniors who were experiencing the devastating effects of COVID-19. 
Since March of that year, DWP has delivered over 1,000 virtual and in-person classes in a row to participants across Canada. Every day, more than 100 participants with various levels of ability and mobility come together online to dance from their homes, retirement communities and long-term care residences. They join seated, standing, from hospital beds, wheelchairs or using walkers, making DWP's program accessible, safe, and welcoming for everyone. 
"Thank you again for giving this gift to us. It is just phenomenal. It helped me so much to release the feelings within me and give me such positive feelings about my disease."

Dancing with Parkinson's Participant
In 2013, DWP was one of the first programs to benefit from evaluation and knowledge translation support from the Ontario Brain Institute, which is now offered through the GEEK program. During the partnership, DWP – while working with The Evaluation Centre for Complex Health Interventions (TECCHI) – was able to demonstrate that their evidence-based dance classes provided valuable health benefits through physical movement and social engagement. This is especially true for those living with neurological conditions such as Alzheimer's, dementia, and Parkinson's disease.
Recently DWP partnered with TECCHI again to conduct a survey-based evaluation of the impact of DWP's online programs. Findings reveal that participants experience improved mood and overall fitness levels, as well as increased mobility and feelings of youthfulness. Moving to music has a positive effect on overall brain health and cognition, and regular dance reduces the risk of someone being diagnosed with dementia. Dance also helps to reduce symptoms of depression, anxiety, and stress, as well as improves energy levels and endurance. As a result, DWP is more committed than ever to its mandate of bringing communities together and creating human connection through the power of dance.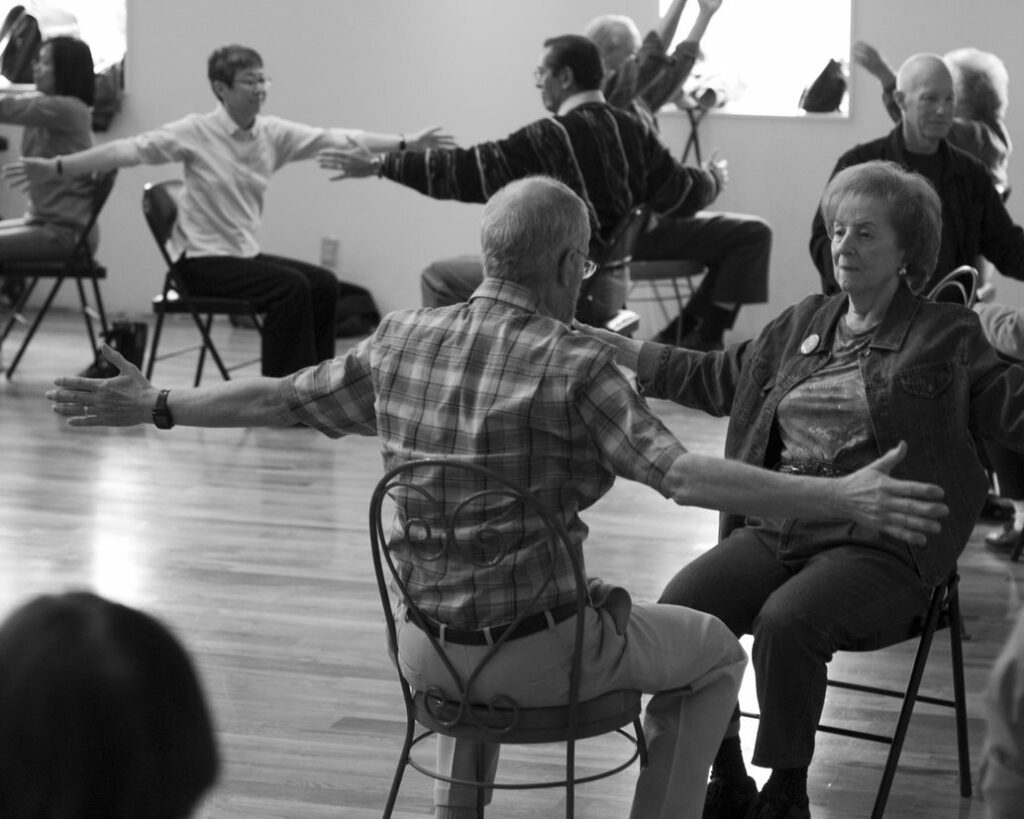 "You have no idea what you are doing for people with Parkinson's. You change lives … you give us all

something special to look forward to each day – and at no charge. Thank you, thank you!!!"

Dancing with Parkinson's Participant
If you are interested in attending an in-person DWP class, they are available at several locations across the Greater Toronto Area and are open to all abilities and mobilities. Virtual classes are hosted on Zoom and welcome people living with Parkinson's and seniors across Canada. The Daily Dance Connect class runs at 11 a.m. ET, seven days a week, 365 days a year.
In the spring of 2023, DWP will celebrate its 15th anniversary with a special Leonard Cohen-themed fundraising event hosted at the Art Gallery of Ontario. To participate in the event, or to learn more about DWP and how to get involved, visit dancingwithparkinsons.com.
Other related links:
https://www.dancingwithparkinsons.com/classes
https://www.dancingwithparkinsons.com/research
https://www.dancingwithparkinsons.com/why-dwp-matters