Caring for your mental health is just as important as looking after your physical health. Perhaps now, during this time of uncertainty and social distancing, it's more important than ever.
The first week in May marks Mental Health Week, and throughout this week our team at OBI will be sharing some of the information and resources that we've put together in collaboration with our partners.
These resources include six easy brain tips you can follow daily to nurture your mental health, detailed guides and toolkits to support yourself or your loved ones, and public talks and blog posts that focus on a vast range of topics pertaining to mental health and wellness.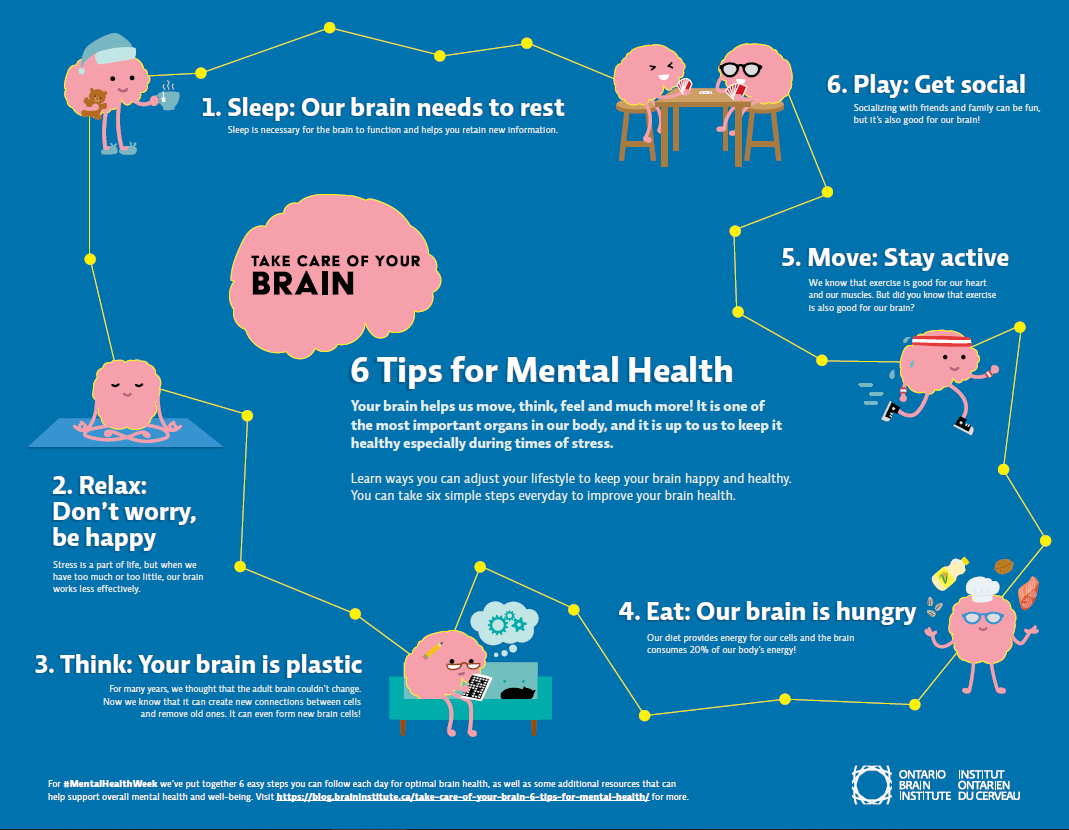 Here are some tips on how to take care of your brain – 
Sleep: A routine can improve your sleep. Stick to a sleep schedule and create a quiet, dark and comfortable space. Minimize stimulation and do things that help you wind down, such as taking a bath or reading a book.
Relax: Recognizing stress and training yourself to relax can help you manage difficult situations. It is important to find coping strategies that work for you. Meditate or engage in an activity you enjoy, such as listening to music.
Think: Train your brain every day! Learn a new language or musical instrument. Developing a new skill is more beneficial than doing something familiar.
Eat: Support a healthy brain with a diet rich in fruit and vegetables, and in fish that is high in Omega-3 fatty acids, such as salmon.
Move: Want to reduce your risk of developing Alzheimer's disease? Exercise regularly! Older adults who are physically active are almost 40% less likely to develop Alzheimer's disease than those who are inactive.
Play: Schedule a social interaction each week: video chat with a distant friend, call your mom or join an online book club.
OBI is encouraged with the provincial government's recent announcements on developing and implementing a mental health strategy for Ontario – including the recognition given to the numerous community organizations we have on the ground, doing phenomenal outreach, education and advocacy work. We're proud to support and collaborate with community groups, researchers, clinicians and companies, through our various programs and initiatives at OBI, to help bring lab to life.
While we are excited to share these guides and resources with you, they are not meant to replace urgent care. If you are struggling with your health and require immediate support, call 911. You can also find a list of mental health outreach services available at https://www.ontario.ca/page/mental-health-services.
Resources –
Sleep:
Relax:
Think: 
Eat:
Move:
Play:
Additional Material –